8th Annual Siltcoos Lake
Stringer Tournament Results
The 8th Annual Siltcoos Lake Stringer Tournament was held Saturday & Sunday, May 26th and 27th, 2007.
With 15 participants and a prizes totaling $375, it was one of our smaller groups, but it was filled with
anticipation and excitement.
Second year veteran Tom Waterworth, edged out Chris Chase for1st Place!!! Chris Chase took
home the 2nd Place money and Jerry Hilbert grabbed both 3rd Place and Big Fish with
some crafty moves near the now-gated sailboat marina.
Bob Morgan of TreasureLine designed a one-of-a-kind 1st Place Trophy for this year's tournament.
It is totally unique and totally awesome! It was coveted by everyone, but especially by
Chris Chase who fished harder than he has ever fished this tournament before.
Thanks to some very generous sponsors, including TreasureLine, Dunham RV Service
and Repair, Westlake Resort and several individual sponsors, we had
prizes down through 12th Place.
A very big THANKS to all of our generous sponsors!
Note that only three ounces separated 1st and 2nd Place. The average fish weight
dropped by 8oz from 1#3oz last year to 0#11oz this year.
Place

Contestant

Saturday
Sunday
2 Day Total

Big Fish

FC
Weight
Big Fish
FC
Weight
Big Fish
FC
Weight

1st

Tom Waterworth ($187.50 &
1st Place Trophy, TreasureLine )

1#5oz
5
4#1oz
1#3oz
5
3#13oz
1#5oz
10
7#14oz

2nd

Chris Chase
($75.00)

1#1oz
5
5#4oz
0#14oz
4
2#7oz
1#1oz
9
7#11oz

3rd

Jerry Hilbert ($37.50)
(& Big Fish - $75.00)

---
---
---
1#6oz
5
5#7oz
1#6oz
5
5#7oz

4th

Doug Waterworth
($150 Loungechair, Dunham RV)

0#13oz
5
2#10oz
1#2oz
5
2#12oz
1#2oz
10
5#6oz

5th

Mike Hammel
($100 Gift Cert, Westlake Resort)

0#11oz
4
1#12oz
1#5oz
3
2#6oz

1#5oz

7
3#11oz

6th

Trevor Eastlick
($30 Rod&Reel, Chris & Barney)

1#2oz
2
1#9oz
1#2oz
2
1#7oz
1#2oz
4
3#0oz

7th

Chuck Gunter
($25 Barbeque, Dunham RV)

0#8oz
3
1#6oz
0#12oz
2
1#6oz
0#12oz
5
2#12oz

7th
Tie

Steve Small *
($25 Barbeque, Dunham RV)

0#13oz
2
1#3oz
0#14oz
2
1#9oz
0#14oz
4
2#12oz

9th

Andy Tucker
($20 Lures, Dave & Andy)

---
---
---
1#1oz
4
2#10oz
1#1oz
4
2#10oz

10th

Dave Wigfield
($10 Bottle Cap Lures, Jason)

1#5oz
2
2#7oz
---
---
---
1#5oz
2
2#7oz

11th

Barney Eastlick
($20 Lights, Dunham RV)

0#12oz
2
1#3oz
0#7oz
1
0#7oz
0#12oz

3
1#10oz

12th

Erik Johnson
($10 Knife, Florence True Value)

1#0oz
1
1#0oz
0#8oz
1
0#8oz
1#0oz
2
1#8oz

13th

Jason Russell

0#11oz
1
0#11oz
---
---
---
0#11oz
1
0#11oz

14th

Fred Hilden

---
---
---
0#7oz
1
0#7oz
0#7oz
1
0#7oz

15th

Larry Grandfield

---
---
---
---
---
---
---
---
---

Total Fish Count

Sat

32

Sun

35

2 Day Total

67
47#14oz

Average Fish Weight

0#11oz

FC = Fish Count: Trout listed first & if "+" sign is present, the number after means another species, i.e. perch, crappie.

* = Rookie (First Year Participant)
Here are some photos of the tournament for your enjoyment!
Click on the thumbnail to view the full-size photo.


As the first day of fishing draws to a close, at least we can all say it was a day without rain!


Guest Jack Donahue talks with Sally Hilden as they both anxiously await the fish stories.

Erik Johnson tells the "they all got away story."

Chris Chase has a nice bunch of trout totally over 5 pounds.

Rookie Steve Small shows them how it's done...

Did this scale get calibrated???

Trevor Eastlick waits his turn for weigh-in.

Guest John Hoss helps with record keeping.

Tom eagerly cleans his catch.

Makes ya wonder what he's thinking...

Tournament photographer Gene Haynes gets caught with his camera out!

Erik reminds his dad that he didn't get ANY Fish!

Dave is up to something...

... and Larry knows what it is!

Chris wants to know if this fish is actually 8"?

Barney tries to explain that he left them all out there.

Chris tells Barney that his 2 fish only weigh as much as 1 of his.

At the end of day 1, Chris has the lead by more than 1 pound!

Sally exclaims "let the eating begin!"

I'm not sure what they're looking at but it must be good!

It's all about great friends having a great time!!!

Chuck tells Larry that one comes before 5.

Where's the food?

Carole joins Dottie, Elaine and Jack in a little conversation.

One big, two small...

The scale says 3#13oz and that's enough to give Tom 1st Place!!!

This nice bucket of fish belongs to Jerry Hilbert.

Tom with 2 of the group that helped him win.

Is everyone accounted for?

Tom Waterworth
is awarded
1st Place money!

Bob Morgan of
TreasureLine
presents the 1st
Place Trophy he
designed for this
tournament!!!

Tom proudly
displays his
one-of-a-kind
trophy.

A close-up!

Chris Chase gets 2nd Place money only 3 ounces behind 1st.

Jerry Hilbert's new strategy yields 3rd Place money and Big Fish for the tournament!

Jerry presents his
1#6oz trout.

Doug Waterworth grabs 4th Place.





Mike Hammel takes home 5th Place.

Trevor Eastlick proudly receives his 6th Place prize!

Chuck Gunter secures a 7th Place tie.

Rookie Steve Small ties for 7th Place. He exclaims, "This is easy money!"

Andy Tucker nails down 9th Place.

Dave Wigfield finishes well down the field in 10th.
No photos of Barney Eastlick (11th) and Erik Johnson (12th) were taken.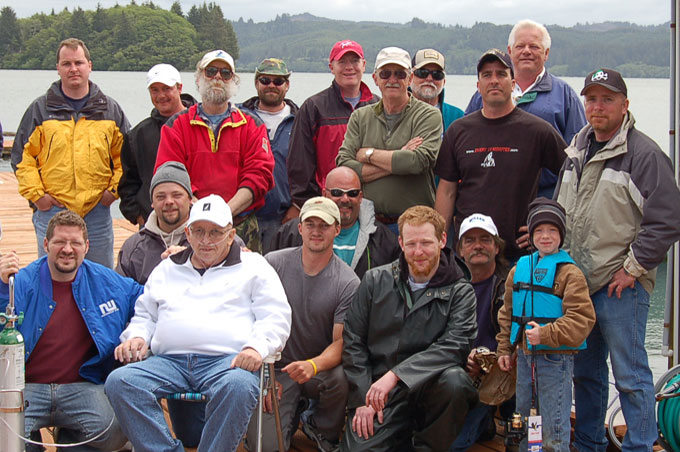 It's a Kodak moment... the group includes kneeling from left, Matt Moorehead, Chris Chase, Ken Moorehead,
Brian Hilbert, Dave Wigfield, Doug Waterworth, Andy Tucker and Trevor Eastlick. Standing from left,
Erik Johnson, Jason Russell, Tom Waterworth, Larry Grandfield, Mike Hammel, Jerry Hilbert,
Chuck Gunter, Steve Small, Fred Hilden and Barney Eastlick.
Special thanks to Gene Haynes and Vince Villegas for their photography - GREAT JOB!!!
We continue to be dedicated to the conservation of Oregon Sports Fishing.
Tight lines and good times!
Return to Siltcoos Lake Home Page
Siltcoos Lake... on the beautiful Oregon Coast.
© 2000-2007 Lake's Edge Design & Graphics
All Right Reserved