9th Annual Siltcoos Lake
Stringer Tournament Results
Westlake, Oregon ~ The 9th Annual Siltcoos Lake Stringer Tournament was held Saturday & Sunday, May 24th and 25th, 2008. With 19 participants, prizes and trophies totaling almost $1,640, this was the second largest group of anglers and the largest prize amount in the event's history. And while Steve Small spurred hopes with a Friday catch, fishing was tough, VERY tough! Eight fish for this large group of fairly decent fisher-men and women in two days of fishing is absolutely unbelievably poor!
It was an emotional moment as tournament host, Fred Hilden, quietly walked away with the 1st Place Trophy and Big Fish for the weekend with a single 3 pound 14 ounce Rainbow Trout. Veteran Jason Russell was the only participant to catch 2 fish for the two-day event securing 2nd Place. And Erik Johnson got himself back in the money this year with a single 2 pound, 2 ounce Cutthroat, finishing third!
Since we now have several generous donors, including individuals, we changed the prize distribution method this year to be more equitable with the results. 1st Place down through however many prizes we have will now be allowed to choose the prize of their liking. If we don't have anglers with a catch as deep as we have prizes, the remaining prizes will be awarded by a random drawing of numbers from everyone without a catch.
This year for example, 2nd Place money was 20% of $475, or $95. Since we had a cash donation from our newest sponsor, Darling's Resort, Jason chose the $100 donation instead of the 2nd Place money. We also had fewer anglers with a catch than prizes, so the last 4 prizes were awarded by drawing numbers.
Bob Morgan of TreasureLine presented the 1st Place Trophy for the second year in a row. Once again this beauty was coveted by everyone, including several bystanders. Dunham Motors & RV Parts & Service gifted 3 $100 Deluxe Lounge Chairs. Vince Villegas from Westlake Resort joined us to present a $130 Gift Certificate and Dee Gray was here for the first time representing Darling's Marina and RV Resort who sponsored a $100 cash prize. Darling's also hosted free hors d'oeuvres on Friday from 4-8pm.
Thanks to all of our generous sponsors this year, we had prizes down through 11th Place. A complete list of sponsors is posted at the top of www.siltcooslake.com and the bottom of each year's results page.
This was a year of "firsts;" with 10 rookies, it was the first year we've had more rookies than returning fishermen. It is the first year that less than 50 fish have been caught for the entire weekend and this weekend we only caught eight! :( It is the first year Chris Chase and Larry Grandfield have missed the tournament and it is also the first year the same person has won both 1st Place and Big Fish.
The total number of fish caught dropped from 67 last year to 8 this year and the average fish weight increased by 14oz from 0# 11oz last year to 1# 9oz this year.
And finally, just to give you an idea how tough the catching was this year, last year's 1st Place Trophy Winner, Tom Waterworth, was held to 1 fish ~ a "quarter-pounder!"
Place

Contestant

Saturday

Sunday

2 Day Total

Big Fish

FC

Weight

Big Fish

FC

Weight

Big Fish

FC

Weight

1st

Fred Hilden (1st Place Trophy, TreasureLine
& $232.50 & Big Fish ~ $95.00)

---

---

---

3# 14oz

1

3# 14oz

3# 14oz

1

3# 14oz

2nd

Jason Russell
($100.00 Cash, Darling's Marina and RV Resort)

2# 4oz

1

2# 4oz

0# 8oz

1

0# 8oz

2# 4oz

2

2# 12oz

3rd

Erik Johnson
($95.00)

2# 2oz

1

2# 2oz

---

---

---

2# 2oz

1

2# 2oz

4th

Steve Small
($100 Lounge Chair, Dunham Motors & RV)

---

---

---

2# 0oz

1

2# 0oz

2# 0oz

1

2# 0oz

5th

Ryan Johnson *
($47.50)

---

---

---

0# 11oz

1

0# 11oz

0# 11oz

1

0# 11oz

6th

Gordie Hibberds *
($60 Ugly Stick, Lake's Edge RV Park)

---

---

---

0# 10oz

1

0# 10oz

0# 10oz

1

0# 10oz

7th

Tom Waterworth
($130 Gift Certificate, Westlake Resort)

---

---

---

0# 4oz

1

0# 4oz

0# 4oz

1

0# 4oz

8th**

Jake Grandfield * ($35 Rod & Reel,
Barney, Chris B, Keith & Trevor)

---

---

---

---

---

---

---

---

---

9th**

Chris Butsch *
($100 Lounge Chair, Dunham Motors/RV)

---

---

---

---

---

---

---

---

---

10th**

Dave Wirth *
($100 Lounge Chair, Dunham Motors/RV)

---

---

---

---

---

---

---

---

---

11th**

Patrick Riley *
($50 Fire Extinguisher, C&S Fire Safe Services)

---

---

---

---

---

---

---

---

---

Mike Conley *

---

---

---

---

---

---

---

---

---

Barney Eastlick

---

---

---

---

---

---

---

---

---

Trevor Eastlick

---

---

---

---

---

---

---

---

---

Keith Gienty *

---

---

---

---

---

---

---

---

---

Chuck Gunter

---

---

---

---

---

---

---

---

---

Mike Hammel

---

---

---

---

---

---

---

---

---

Jenn Kock *

---

---

---

---

---

---

---

---

---

Floyd Larson *

---

---

---

---

---

---

---

---

---

Total Fish Count

Sat

2

Sun

6

2 Day Total

8

12# 5oz

Average Fish Weight

1# 9oz

FC = Fish Count: Trout listed first & if "+" sign is present, the number after means another species, i.e. perch, crappie.

* = Rookie (First Year Participant)

** = Place by Random Number Drawing
Here are some photos of the tournament for your enjoyment!
Click on the thumbnail to view the full-size photo.


Another year without rain, Chuck Gunter is perplexed about a day with NO fish...


April Hammel & John Hoss simply cannot believe that Mike Hammel got blanked too!

Fred Hilden and Floyd Larson arrive Saturday evening in style, but they didn't do any catching either.

So... where's the beef?

Erik Johnson shows us how it's done, with one very nice fish for Saturday.

New weigh-master Mike Hammel asks one more time, "did this scale get calibrated?"


Erik and Jason Russell, long-time rivals, compare their catch to see whose is bigger.

And Jason exclaims, "I told you my fish was bigger."

Fred welcomes Keith Gientry to his first Stringer Tournament dinner.

Makes ya wonder what rookie Mike Conley
is thinking...

Carole Gunter described it as
the best Tournament dinner ever!

Debbie Larson peruses the variety of faire at her first Tournament dinner.

Another wonderful dinner is enjoyed by everyone.

Erik's Saturday catch as it appeared on the Haynes' breakfast table Sunday morning.

And they return from conquering.

Nothing but big grins here!

Their Sunday catch is so heavy they can barely carry it.

OK, so it's only one fish, but it is a pretty nice fish!

The gang anxiously awaits the weigh-in results.

PoPo arrives with his Sunday effort...

Now that's a rainbow!

Jason waves at an old friend while Steve wonders what he's really up to.

Fred explains the new prize distribution rules.

Ryan Johnson is amazed that he actually caught as many fish as his dad!

The coveted
1st Place Trophy

Bob Morgan presents the 1st Place Trophy.

Chuck steps-in and does a nice job with prize distribution ~
1st Place money.

And then there was
Big Fish ...

Jason secures 2nd Place with a second fish
on Sunday.

Erik gets back in the money with 3rd Place.

Steve thought he deserved better than 4th Place, but graciously accepted it anyway!

Erik coaches rookie Ryan Johnson on his prize selection criteria. Ryan has his eyes on a new set of Legos.

Ryan places 5th but is able to select the yet unclaimed 3rd prize money.

Rookie Gordie Hibberds comes in 6th.

And Tom's "quarter-pounder" grabs him 7th Place and a $130 gift certificate from Westlake Resort.

Rookie Jake Grandfield picks the Rod 'n Reel as he chooses the closest number in a random drawing.

Chris Butsch grabs one of Dunham's Lounge Chairs as he draws the second best number.

Dave Wirth also selects a Dunham Lounge Chair as he guesses the third closest number.

And Patrick Riley grabs the 5# fire extinguisher donated by C&S Fire Safe Services.

Ok, so he's a little excited... wouldn't you be too???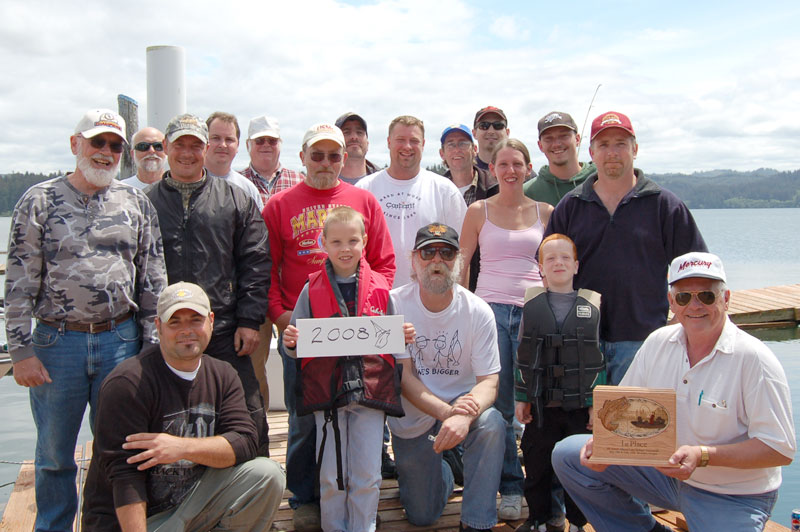 The 9th Annual Siltcoos Lake Stringer Tournament participants include kneeling from left, Jake Grandfield, Ryan Johnson (standing)
Tom Waterworth, Trevor Eastlick (standing) and Fred Hilden. Standing from left, Floyd Larson, Chuck Gunter, Jason Russell,
Erik Johnson, Gordie Hibberds, Patrick Riley, Steve Small, Mike Conley, Dave Wirth, Keith Gienty, Jenn Kock,
Chris Butsch, and Barney Eastlick. Mike Hammel, not pictured, had already left the building...
Special thanks to Gene Haynes ~ Tournament Photographer
Special thanks to Chuck Gunter ~ Prize Distribution
Special thanks to Mike Hammel ~ Weigh-Master
Special thanks to John Hoss ~ Records-Keeper
2008 Tournament Sponsors

TreasureLine Urns

1st Place Trophy ($400)

Dunham Motors & RV Parts & Service

3 Deluxe Lounge Chairs ($300)

Westlake Resort

Gift Certificate ($130)

Darling's Marina and RV Resort

Cash Prize ($100)

Lake's Edge RV Park & Marina

Ugly Stick ($60)

C & S Fire Safe Services

ABC Fire Extinguisher w/Veh. Bracket ($50)

Barney, Chris B., Keith & Trevor

Abu Garcia Rod & Reel ($35)
We continue to be dedicated to the conservation of Oregon Sports Fishing.
Tight lines and good times!
Return to Siltcoos Lake Home Page
Siltcoos Lake... on the beautiful Oregon Coast.
© 2000-2008 Lake's Edge Design & Graphics
All Right Reserved
Last updated 05/20/09