Siltcoos Lake Fishing Map
This fishing map of Siltcoos Lake is provided for your convenience. While it has aided many fishermen and fisherwomen in their quest for the big one, we make no assurances that you will actually catch fish where indicated. After all, fish are very fickle and change their feeding habits with the season, water temperature, water color, moon cycle and cloud cover during darkness.
There is a new floating restroom facility on the lake. In the winter it is anchored at the southeast side of Booth Island. In the summer it is anchored at the south end of Keichle Arm near the Boy Scout Camp. Be careful approaching and departing from the restroom platform as it can move violently in waves and wind.
So... get out there and give it your best shot. And have fun while you're doing it! Good luck!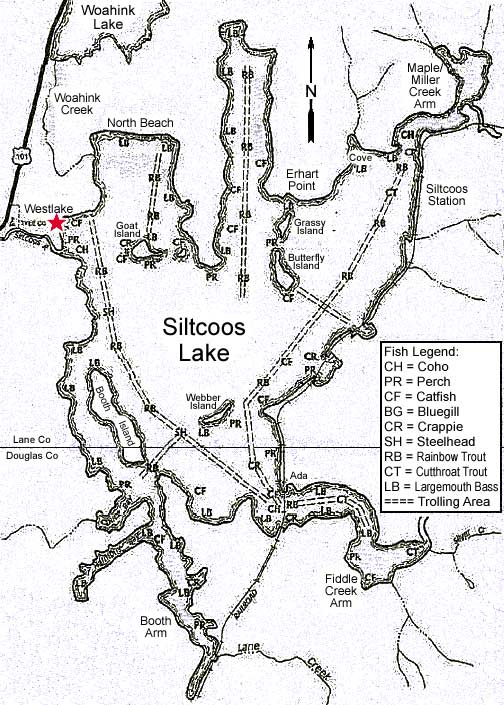 Return to Siltcoos Lake Home Page
Siltcoos Lake... on the beautiful Oregon Coast.
We continue to be dedicated to the conservation of Oregon Sports Fishing.
Tight lines and good times!
© 2000-2019 Lake's Edge RV Park & Marina
All Rights Reserved ~ Last updated 6/25/2016